Overview
700-person call center – site development/grading, underground utilities and storm, asphalt and concrete pavement, perimeter concrete tilt walls, steel-framed interior
Coordination of drawings and management of design teams

Building provided shell architectural and structural drawings
ARCO provided shell mechanical, electrical, and fire protection drawings
Call center tenant provided all design and engineering for the interior build out

Shell building was four months into construction before the interior buildout was added to ARCO's scope.

Required extensive changes and modifications to many of the shell building components already purchased or in places such as storefront doors, floor slab finishes, HVAC, fire protection, and electrical systems

Original shell building schedule duration: 8 months

80,000 SF call center buildout required fast-track construction only adding one month to the end of the schedule for a total of nine months from start to finish

Procurement of long-lead items associated with the tenant improvement buildout such as reclaimed lumber, interior glass systems, ceiling clouds, custom millwork, etc. while maintaining a fast-track schedule
ARCO maintained a consistent and collaborative workflow through:

Weekly design meetings establishing partnerships directly with each of the design teams ensured design adjustments were consistent from one drawing set to the next as the project progressed.
Weekly OAC meetings were held to maintain and prioritize a list of critical design decisions with necessary dates to avoid schedule impacts, which were reviewed in depth with the building owner/tenant weekly.
Real-time presentations of cost, schedule, and design impacts were made prior to making drawing changes to allow owners/tenants to make informed decisions and save time/money, resulting in a far superior finished product.

Due to lead times, space inside the building, and the inability to protect high-end finishes for months of fast-track construction, ARCO recognized the schedule could not follow the traditional path and achieve the level of expected finishes. To overcome these obstacles, we used the following methods:

Floating cloud ceiling systems were pre-engineered with openings for lights and other MEP fixtures predesignated, cut to size, and labeled prior to arriving on site. MEP systems were completed and suspended just above the ceiling prior to the ceiling being installed with adjustable duct elbows, flexible sprinkler pipe, and adjustable light suspension system allowing the finished products to be quickly dropped in for a finished look.
Fire sprinkler piping, HVAC ductwork, electrical conduit, drywall corners, and special shapes were field measured, built off-site and brought in cut to length for quick and coordinated installation.
Redundant electrical & data services to power building
UPS (Uninterruptible Power Supply) to protect mission-critical infrastructure

Generator backup with phased power restoration to building

Pre-action fire suppression systems

Building automation system

Underground-fed systems throughout

Raised access floor system

Overhead data cable tray loop

Exposed spiral duct and floating ACT ceiling systems

Suspended operable wall systems

Fitness center and gym equipment

6 break areas with kitchens

Concrete reception desks with cast-in wood grain

Reclaimed lumber finishes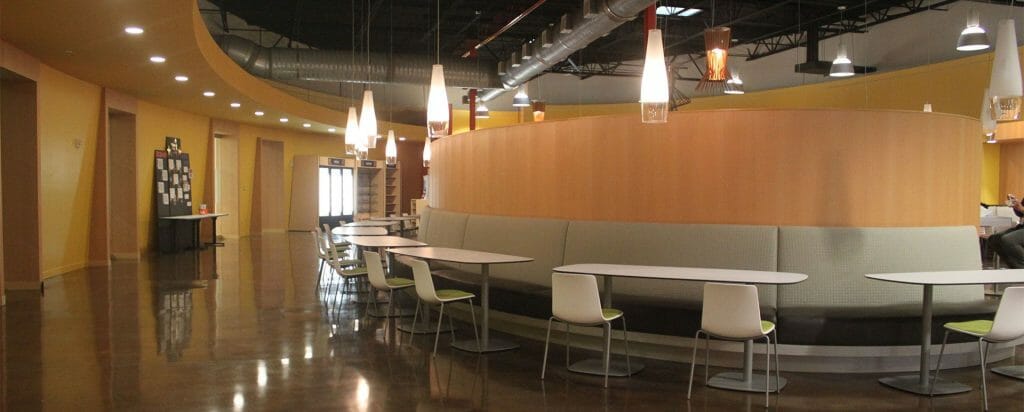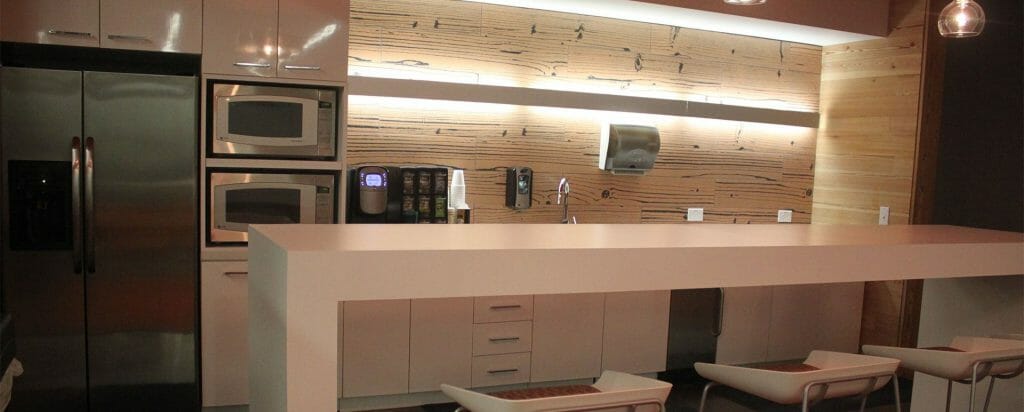 Featured Projects
Just as important, we'll work to find ways to save time and money. One thing that sets ARCO Design/Build from some of our competitors is that every move we make is made with your success in mind. Decisions and recommendations are made based on what's right for you, not what's most profitable for us.
See All Projects