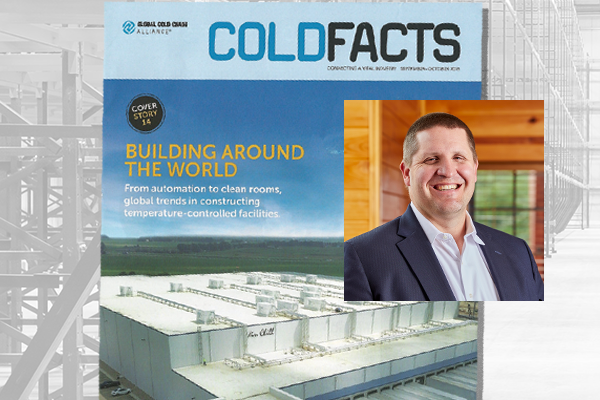 Click here to view the original article "Building Around the World" by the Global Cold Chain Alliance for Cold Facts magazine as published on their website. 
Building Around The World
Innovation in thermal building projects is happening at a rapid pace on almost every continent. Here is a snap shot of some of the trends in building high quality, food safety-focused, temperature-controlled environments in the Americas, Europe, South East Asia, and Africa.
Hot in Canada
"It's a hot climate these days in Canada, with lots of activity and growth in food processing and manufacturing," notes Marko Dzeletovich, P. Eng, President of Coldbox Builders. "A healthy economy, changes in consumer preferences and ways of purchasing food, meal kit companies becoming more common – all of these factors have an impact on the decisions that are made in building cold storage and processing facilities." Dzeletovich says at this moment, the number one trend in Canada in innovative thermal building projects is end users requesting turnkey solutions and a guaranteed completion date. "It's a sign of the business climate, schedule is very important." He adds that there is great demand from customers to find a single cold storage and processing facility specialist to pull it all together. "It helps to speed up the schedule. There are so many technological and system options to choose from, and so little time for planning right now, end users need someone with the expertise to provide solutions so they can get their facility into the market as fast as possible." Another trend Dzeletovich points to is the increase in cross-border partnerships.
"I'm seeing an increase in American companies with local clients needing a Canadian design-build partner to facilitate U.S. client growth in Canada." Automation is a big topic these days, according to Dzeletovich. "Semi or fully automated facilities are starting to go up and operators are exploring their options and running models to see how automation can benefit their business." When weighing whether to go with an automated facility, one has to determine how many pallets are going through the PRW against other costs, Dzeletovich explains.
"Automation systems are highly flexible and 3PLs want flexibility. Automation gives you higher density, greater height, and a smaller footprint but if you build conventionally and sprawl out, you can't take advantage of that space at a later time. Also, automated facilities can operate at night, in the dark, staging product. A warehouseman sitting idle costs money." Dzeletovich points out that while the cost of labor and shortage of workers in non-automated controlled-environment buildings continues to be an issue, there's no shortage of workers interested in technology and programming. "There are plenty of folks who would like to work in a fully automated space. Augmenting and maintaining automated systems is really interesting." But one of the main drivers in weighing the benefits of automation in Canada, says Dzeletovich, is whether there's developed land available. "It's difficult to get developers to agree to purpose-built facilities like automated temperature-controlled buildings," Dzeletovich says. "Developers are looking out 20 plus years and consider how this specialized building can be repurposed. Just as 3PLs want flexibility to accommodate future clients, land developers want a building that is as flexible as possible for their future tenant." Dzeletovich acknowledges it impacts the move to automation to some degree.

Pharma in the USA
The first fully automated temperature-controlled facility opened in the United States in 2018. "Regarding automation, it's been a shot in the arm for the PRW industry and garnering a lot of attention. However, we're not seeing dramatic changes yet, the ball is slowly moving down the field," says Jake Stefan, President of ARCO Design/Build BTS, Inc. "I can tell you that automation in the cold world in the United States has a bigger foothold in facilities designed around a specific product(s) – for example facilities that are dedicated to manufacturing plants," Stefan notes. "Investment is still very high on automated material handling systems so if the products being stored use similar pallet dimensions and can be handled on the same ASRS, mole system or any other automation oriented retrieval system, it's much easier for the operator to stomach." There is one cold storage market that is growing by leaps and bounds says Stefan, and that is specialty pharmaceuticals, which all tend to be temperature controlled.
"The specialty pharma, or cold storage segment, is one of the fastest growing in the pharmaceutical industry. Unfortunately, even though I like it growing quickly, I'm not sure specialty pharma is going to fill your warehouse," Stefan warns. "Pill bottles are tiny and are stored by box or case, not pallet, so much of specialty pharma is stored within walk-in coolers rather than forklift drive-in coolers. We recently completed a pharmaceutical distribution facility with a large cooler by pharmaceutical standards, but, in the end, it was still only 3,000 square feet expandable to 6,000."
There are ways for a controlled environment facility to share space between pharma and other products, Stefan says, but because of the stringent requirements of the DEA and pharma manufacturers, the cold pharma has typically been stored in independent facilities versus comingled facilities with completely dedicated storage spaces. Stefan notes that he has been fielding questions from customers about one specific product related to the pharma world that can be stored in the same temperature-controlled facility as food.
"A pill bottle measures a couple of inches but the frozen ice packs that go in the shipping containers take up a lot more space, have to be temperature controlled during storage, and have no related security risks," Stefan says. "I can see a pharma distributor partnering with a facility that can blast freeze and store pallets of ice packs, allowing the distributor
to receive a pallet or two as needed."
One area of growth for Stefan's company has been in designing and building cleanrooms for pharma – a controlled environment that has a low level of tolerance for pollutants such as dust, vapors, and often times humidity, for manufacturing or scientific research. "Although there are different rules and regulations for cold cleanrooms versus cold food storage, the concept of building sanitary, air, and water tight storage is the same. The techniques and materials used in the construction of these cleanrooms are very similar to those used in cold storage," Stefan explains. "So our expertise, technical awareness, and attention to detail from building cold storage has been a big factor in our success in the pharma world." Any other construction trend on Stefan's mind? "Yes, jointless floor systems! They have such great value, I can't understand why they haven't become the standard – I've done some for PRWs but never done one yet for a food distribution facility."

Efficiencies in Mexico
Alfredo Garza, General Director, Infrisa Mexico, couldn't agree more with Stefan. "The trend for us is to install concrete floors without joints – they require less maintenance, they increase operational efficiencies, they're more sanitary, they're easier on forklifts and their operators because there are no bumps, and they're flatter, which makes them more secure when using high racks." Garza says there are also trends in the kind of insulation being used for thermal building projects. "The type of foam insulation we're using today has revolutionized operating systems in Mexico and efficiencies in cold storage are significantly greater." Garza says the insulation is a foam PIR (Polyisocyanurate) that has a lot of structural advantages because it is quite rigid and strong which translates into less panel breakage and shrinking during construction.
The trends in wall design are focused on the type of materials being used and those materials, as well as the paint that will be used, are selected based on the type of product being stored and the chemicals used to clean the walls and how aggressively those chemicals will be used. "All these elements impact the way you design and specify panels so you really have to know your client and their products," Garza points out. Doors also are among the new technologies that are creating better and safer temperature-controlled facilities, Garza notes.
"Today, there are so many doors to choose from that make internal operations more efficient. You have to sit down with your client and explain the different technologies that are available in the market based on the nature of the client's operation." Garza says that because of climate change and the risk to the environment that ammonia poses, the type of refrigerants now used in temperature-controlled warehouses in Mexico are more efficient and safer. "We're recommending systems that use a mix of refrigerant ammonia and glycol and this reduces kilos of ammonia from the system. Overall, there's a lot of need for colds storage construction in Mexico," Garza points out. "We have a very low percentage of square meters of temperature controlled storage for the population, and the facilities we do have are too spread out creating long distances for refrigerated transportation to travel."
Going High in the UK
"One of the biggest trends impacting cold storage in the United Kingdom is younger consumers buying smaller quantities of groceries more often and not going to large supermarkets," says Tony Wall, Managing Director of ISD Solutions, the largest temperature-controlled facility builder in the United Kingdom.
"With this trend, we're seeing the emergence of convenience stores and the decline of big box stores." Wall adds that the other major demographic trend – younger consumers shopping for groceries online – is having a massive impact at every level of the food supply chain. "The frozen food market is growing immensely in the United Kingdom as it is elsewhere in Europe. Every store is adding more frozen aisles, with ambient temperature discount stores looking to get into the frozen food market."Wall says that the United Kingdom's economy has a 30 to 35 percent cold storage requirement and with the huge upsurge in demand for frozen food, his company has never been so busy building cold storage.
And what they're building are automated high bay (high rise) temperature-controlled facilities. "Now that there is a 20-year track record since the first high bay was built in Belgium, when clients are looking at a new project with high volume, they look at high bay first." Wall says the industry has changed a great deal since the first high bay facilities came into the market and has become very specialized.
"Contractors like us used to manufacture and install ourselves, but now high bays are such expensive and technically challenging projects to build, contractors partner with manufacturers to provide a solution." Wall says moving into new global markets depends not only on having good partners, but also on your company's track record. "You can't give high bay jobs to just any builder – it's a huge load on the ground."
For ISD Solutions, its partnership has been with Kingspan, one of Europe's leading construction product manufacturers – ISD Solutions is its largest customer for temperature-controlled panels in Western Europe. Wall says, "With Kingspan being a global company, it allows us to work anywhere in the world. We just entered the Australian market with the completion of that country's first high bay in 2017, and are fielding inquiries from the Middle East and Asia."
Growth in Africa and Southeast Asia
Carsten Thorsen, CEO of CT-TECHNOLOGIES, a Danish company specializing in engineering climate-controlled facilities, says his company builds all over the world and is anticipating 20 percent growth annually in the coming years in demand for their services in Southeast Asia (SEA), and in Africa, particularly in Ghana and Nigeria. Thorsen says in Africa, where the company has been operating for 15 years, they supply more projects on a turnkey basis, providing everything from floor insulation, steel structure, refrigeration equipment, panels, and doors. In building temperature controlled facilities in SEA over the past 30 years, he says they are more likely to provide sandwich panels, floor insulation, and doors.
"While our African customers are more interested in purchasing the entire solution from one company, another big difference between the two regions is that in South East Asia, ASRS and high-rise warehouses are more prevalent whereas in Africa, the concept is still new and interest low." Thorsen adds that the growth in high rise buildings and ASRS in Southeast Asia, estimated to grow by 12 percent per year, is driven by increasing labor costs, lack of space, and the improved efficiencies that the high rise ASRS buildings allow. "Energy efficiency is a very important aspect for many clients and with the rising energy prices in all the countries we work in, this is becoming increasingly critical."
To address energy efficiency, Thorsen says the company is focusing more and more on providing photovoltaic (solar) solutions for their cold store customers. He adds that the solar panels themselves have not changed much in recent years, but what has changed is the cost. "The prices are lower now than they were a few years ago, so that is also fueling interest in solar on the part of our SEA and African clients. Now the focus is on making the batteries, where excess energy is stored and used at night, cheaper."
Thorsen said another trend is that fire resistance is coming more into focus in Southeast Asia, with customers asking for solutions that satisfy stricter requirements. It is also a high priority because of past fires that have resulted in loss of life."In cold stores, we typically use PIR panels that are self-extinguishing and optimal in controlling smoke development, and temperature and fire penetration," Thorson notes.
"In other buildings with even higher priority on fire safety, such as high rise cold storage facilities, we use mineral wool panels as they are highly fire resistant and act as a fire barrier, slowing down fires and giving the responders more time to get the fire under control." Another new technology that Thorson says his company is starting to use, and which he believes will become more widespread in SEA, is active fire protection systems that reduce oxygen concentration levels, actively inhibiting fires from developing or spreading.
"Unlike sprinkler-based fire protection, oxygen reduction prevents fires from starting in the first place."